Dear Chippies, Parents, Family and Friends,
I am writing to you after an incredible day at CRC. We are all excited to go to bed tonight so that we can wake up on the 4th of July, but before I go into the details of what tomorrow will bring, I want to update you on all of the wonderfulness of today…so here it goes.
Because of our late night game last night (side-note: Tans won Stalk the Lantern), we slept-in an extra half hour this morning. This thirty minute delay was welcomed by campers and staff alike! After an amazing morning of activities and a delicious lunch, we headed to the Center Fire Circle to learn our United Nations Day Teams. Raleigh D, Rachel B, and Sydney Kingsepp announced the team of Egypt; Lily G, Ariana S and Rebecca Viner announced the team of Zimbabwe; Sydney L, Bryce S and Sarah Dry announced the team of Iceland; and Sophie B, Sarah G and Nicole Gray announced the team of Fiji. There was lots of cheering and excitement about the teams and the anticipation of UN Day…the momentum is already building!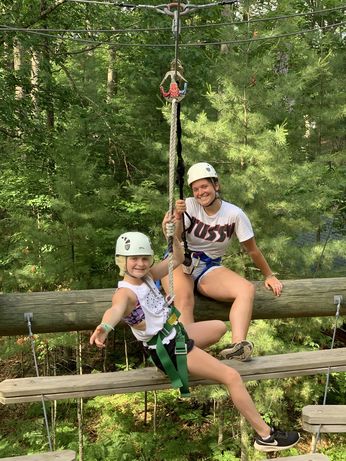 In terms of activities, there were significant events happening all over camp. At Random House, Ayden S, Stella S, Stephanie S, Sadie G, Avery R, Joslyn A, Sophie S, Dylan G and Samantha R all made boats that sailed all the way from one swim dock to the other. At waterskiing, Katie M, Chloe G & Amari S got up on two skis for ten seconds, Georgia S dropped a ski and got around the lake, and Leah C lifted a ski for ten seconds! At kayaking, they did a variety of relay races…today's winners were Sadie M, Brooke R, Lilah K and JJ S. And when I stopped by arts & crafts, I was amazed at the giant canvas map of Chippewa that was being drawn and painted. Each camper who takes arts & crafts is adding to the map and it is coming together so nicely!
After an incredible BBQ dinner, we loaded the buses to head to Camp Ojibwa. We got to hang with with the Ojibwa boys (including many Chippy brothers), eat fabulous chocolate chip cookies, and dance our hearts out to songs DJ'd by Monster Entertainment. It was a great night!
And now we are all prepping for the day ahead. Red, white and blue outfits are ready and Lakeview is hard at work in the Adler Lodge. They have been working extremely diligently in an effort to make this 4th of July the best ever. From drawing & painting murals to planning the meals for the day, and from meticulously mapping out the afternoon carnival to making Circle Game questions & teams, this group of 29 Lakeview campers have been preparing to provide an outstanding day for #TheRanch2019….and I have no doubt that it will be just that. They have come together for an important camp program- one that campers and staff look forward to each and every year. So get excited to hear all about our day tomorrow…while each and every day is special at Chippewa, tomorrow is slated to be extra-special!
Okay, that's all for tonight- thanks for reading! Enjoy your 4th of July!
Happy Camping and Love,
Sari