Dear Chippies, Parents, Family and Friends,
I am full of mixed emotions at this very moment in time- I truly cannot believe that this is my last first session post, or that nearly four weeks have passed since June 17th when this place came alive with the arrival of campers. I am sad that we have campers leaving this weekend, and that their time at their favorite place with their favorite people is quickly expiring. That said, I am overcome with positive emotions that this feels so sad- that the connections formed within this community are so meaningful, and that Chippewa holds such a significant place in their hearts. Today was another reminder of why we all choose to return to CRC each summer. It was a reminder that Chippewa is full of genuine, caring, confident and fun people. And it was a reminder that everybody here feels true freedom and happiness when surrounded by these people at this place. It was another day that I experienced immense pride for what is happening at #TheRanch2019, and for all the ways in which the campers and staff are growing.
Due to the weather forecast, we changed the plans for today. We wanted to make sure that Egg Marathon happened, and so we moved it to the morning (it is typically an afternoon program). In order to prepare, at breakfast, campers and staff cheered at the top of their lungs for Tan & White. I absolutely loved watching first year campers cheering with confidence as if they had been at camp for years. And the CITs were going wild…their adrenaline was pumping and they were clearly excited for Egg to begin.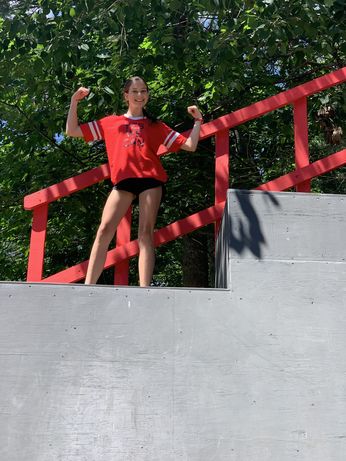 Just so we are all on the same page, Egg Marathon is the traditional final Tan & White game of first session. It is an all camp relay in which participants wear a backpack with an egg inside. The idea is to complete the relay as quickly as possible while keeping the egg intact. Every single camper has a role in this relay. Some campers participate in a variety of activities including (but not limited to) juice chug, climbing, tennis, word search and egg drop. There are also campers running from activity to activity with the backpack on their backs. The relay ends on the south end of camp with the Grand and Chief Sachems building a fire to burn a rope and eventually drop the egg which is cradled on a piece of wood hung by the rope.
It is always an incredible program full of excitement. The relay began with a run- it is always an honor to be the first runner in Egg Marathon…typically this role is reserved for some of the fastest Tans and Whites in camp. Today, Anna S and Skylar S kicked off the race and I was astonished at their speed! I made it out to many of the activities, and absolutely loved seeing campers supporting each other. Both cheering for their own teams, and their friends on the opposite teams. One highlight was witnessing the very first Ninja Warrior leg of the relay…I honestly couldn't believe how the campers have already mastered parts of the course. Over at the basketball courts, the White Team basketball players were outstanding. Basketball can typically be an activity that teams get tripped up at- it is a lot of pressure to make two free throws with so many people watching. But Lexi G, Lauren G, Alexis F and Ivy F were on fire, and may have missed a combined two shots! Throughout the morning, the Tans and Whites traded being in the lead…it was truly anybody's game. But then the Whites pulled ahead and ended up starting and finishing their fire before the Tans brought their backpack to the fire area. I must tell you though, Talia S and Noa F (the Tan Sachems) built a fire like I have never seen before. They already knew that the Whites had completed the race but they were determined to do their best, and they exceeded everybody's expectations. In two minutes, they built a blazing fire and dropped their egg. I am not sure I have ever, in all my years at Chippewa, seen anything like it.
After Egg Marathon, we headed to the Center Fire Circle to learn who the first session Honor Cabin was. Honor Cabin is awarded to the cabins with the highest cabin clean-up scores of the session. There is one winner from Colt Village and one from Wrangler Village. According to the Village Directors, the results were very close, but in the end, Copper Stripes and Trailrders were officially named the 2019 First Session Honor Cabins. And in celebration of their clean cabins, they went to Cathy's after lunch!
Although we planned the day as if we were going to have a rainy afternoon, we got lucky and had a full day of sunshine, thus getting to do regular afternoon activities! Campers got in one last waterski, another climb up the wall and zip down the zipline, and a final round of archery for the session. The staff were working hard to help campers achieve the goals they had set for themselves, and the number of camper accomplishments was incredible. It was the perfect official end to activities for so many campers all across camp.
Speaking of perfect endings, tonight was Cabin Night, which is a little bit of a throw-back. Cabin counselors planned magical evenings for their campers. Blackfoot solved a mystery, and met a new friend. They also had an awesome scavenger hunt in which they played bonding games, made bracelets, drew signs for their big sisters, and created a music video. Timberwalk had a fantastic night baking in the Cooking Academy and then played a competitive game of gaga. Trailriders and Lakeview loved their trip to the Minoqua Bats show- I can tell you first hand that it was an entertaining one! Many cabins worked together to compile their list of "Things We Won't Forget About 1st Session 2019." There are different plans for these lists but regardless of what the counselors have in mind, I know that this portion of the night was a really special one for so many.
And there you have it…we had another stupendous day on Dam Lake! It was one for the record books- from special programming to cabin bonding, and from Tan & White to trips to Cathy's, this day was filled with action, living in the moment and appreciating our time together.
Thank you to all of you who have joined me each night to reflect upon our days during this first session. Though I am sad to see these four weeks coming to an end, I am looking forward to what lies ahead for all of us at #TheRanch2019!
Happy Camping and Love,
Sari