Dear Chippies, Parents, Family and Friends,
Tonight I am getting a little bit of a late start in writing to all of you, so although there are sooooooo many details that I want to share, tonight is going to be more of a brief rundown of our day. I apologize for not giving this day, and all of the amazingness that it brought, justice…but you know how I feel…this place is the best…and these people are the best…and today was yet another reminder of just how lucky I am to be a part of all that is #TheRanch2019. So here it goes…
This morning's Sunday Morning Breakfast was wonderful. Before breakfast even began, we had one of the birthday girls (Liv K), in the lodge helping us prep. We suggested that she just sit back and relax but she insisted on helping us. It was very sweet and much appreciated! After breakfast, we had our final sign-ups of the summer…some campers chose activities they have never signed up for while others kept the consistency of the schedules that they know they love. While sign-ups were going on, we also had olympics happening on all around camp. This time, Smoss added in a swimming competition…it was awesome! Additionally, a couple of cabins got to go tubing- Blackfoot, Silverspurs and Lucky-X all had won tubing as a prize and they enjoyed being pulled behind the boat driven by Cliff :).
This afternoon, we went a little bit non-traditional. After lunch, the birthday girls (Liv & Halle) were showered with "happy birthdays" over the announcements. There was literally a line out the door of the Main House and into Tom's Office. Typically, these announcements happen during wake-up but because it was a Sunday, there was an afternoon "wake-up." It was great! And then we had Cabin Lip Sync…always one of my favorite programs. The performances were incredible…some were humorous, many were creative and all of them demonstrated and immense amount of team-work and cabin unity. The winners today were Blackfoot Trail and C-C. A special shout-out also goes to Lakeview 2019…they did a three part performance, which included their Trailriders lip sync that was featured in the 2018 Reunion Movie. The second session Lakeview lip sync can be a bit bittersweet because it is their final lip sync performance as a cabin. These girls clearly left it all on the stage and had a blast doing so…their originality both in costumes and dance moves was outstanding, and I watched them up there with an immense amount of pride. This group has become one that campers want to emulate, one that truly cherishes being together, and one who genuinely loves camp with their whole hearts…and all of this was definitely clear as they danced on stage this afternoon.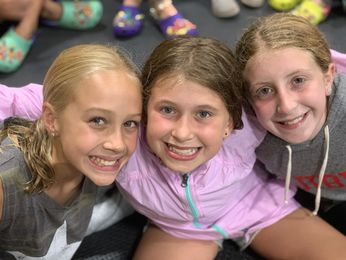 And then, as if we hadn't had enough excitement for the day, the evening program was Tom Pease. Tom Pease is a wonderful musician who has been performing at Chippewa for the past 35-plus years. He sings many Chippewa favorites including Belly Button, Walk A Mile, and We Come From the Mountains. These are songs that campers and staff go wild for. I personally look forward to this program every summer. I love it because it brings me back to my camper and counselor days at CRC…I remember dancing and singing around the Center Fire Circle with my cabinmates and counselors to many of the same songs that we sang tonight. I think I love it even more though because on this night each summer, I witness campers and staff letting loose…maybe even more than normal…and truly diving into the silliness that is screaming "BULLDOZER" in the middle of a song. I get to see older campers teaching younger campers the Chippewa moves to each of the songs, and I watch an assortment of campers (some whom surprise me) volunteer to stand beside Tom Pease to demonstrate those moves and sing at the top of their lungs. And at the end of each Tom Pease performance, as a camp, we sing Love Grows. So many of the songs we sang tonight have a positive message and Love Grows is the perfect way to end such a special night. It is a song that reminds us that "Love grows round like a circle and comes back knocking at your front door." Ugh- I get emotional just thinking about the Chippewa community singing and signing that song as our evening ended.
So there you have it…I think I was a bit more long-winded that I had anticipated, but oh well! That was our day- it was too good to leave out some of these details. Thanks for reading tonight!
Happy Camping and Love,
Sari