Dear Chippies, Parents, Family and Friends,
We had a truly lovely day at CRC- between the amazing weather and all of the program/activity excitement, I would rate it as one of the top days thus far at #TheRanch2019…and that's saying a lot! Here's what happened…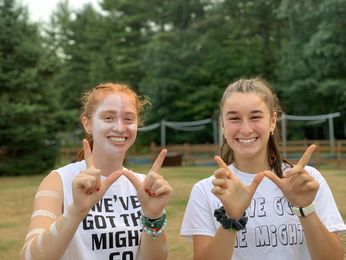 We had a wonderful day of A-Day activities. At archery, Izzi M and Grace F shot their first golds of the summer…a big congrats to them! Jillian W lifted in skiing while Annabelle K got up on two for ten seconds, and Ava G crossed the wakes on two skis. And at the high ropes course, there were Trailriders girls going down the True Blue for the first time in four years. This afternoon, I had the good fortune of crossing paths with Chandler S, Vida C and Julia H on their way to the high ropes course. As we walked down the trail, they told me all about their adventures of being spies during Realm- they loved every second of their time searching in the woods for clues and I loved hearing about it.
In addition to our typical activities, we learned our Kahuna Day teams today. First and foremost, Sarah Stahlberger and Sami Kieffer, who are running the day, announced that the theme for 2019 Kahuna Day is Board Games! The teams are Sorry, Monopoly, Candy Land and Scrabble. Each set of captains read off their team lists at the Center Fire Circle as campers and staff excitedly cheered. There is lots and lots of positive energy in anticipation for Kahuna Day…it is always a favorite and this one will be no exception- it will be a day full of competition, spirit, sportsmanship and an amazing luau :).
Tonight's evening program was Tan & White All Camp Capture the Flag. I am pretty sure this is an event that certain Chippies look forward to all year long. During first session, we play a campers-only version of this game, but tonight, everybody got involved. The staff were incredibly enthusiastic about this game, and of course, that trickled down to the campers getting super into it as well. I was in the South Field for the entire night and got to witness some incredible action. Alyssa L (Tan) and Grace F (White) impressed me with their outstanding defensive skills- they were literally pulling flags left and right. Hayley Cohen and Skylar S are also deserving of a shout-out as they both ran the flag across the center line scoring for the Tan Team. It was a fantastically action packed night…in my eyes, just the right amount, and right type of competition. I heard tons and tons of "good jobs!" and "nice tries!" from teammates and opponents. There were a number of people who chose to free the jail instead of heading to the box…always a move that I admire. And there were even those who prefer to be on the sidelines cheering their team on. It was an all-around wonderful night and although the Tans came out victorious, I think it is safe to say that everybody had fun!
That's all for tonight- it was certainly a great day to be a Chippy. As much as I hate to say it, I am beginning to feel the end nearing…I know we have plenty of camping left, but as a look ahead at the calendar, it is hard to deny the fact that our days on Dam Lake this summer are numbered. That said, I am confident that we will squeeze every ounce of goodness out of those days…we will continue to appreciate each other and continue to appreciate our summer home. With that, I'm heading to bed so that I can be well rested and enjoy all that tomorrow will bring. Thanks for reading!
Happy Camping and Love,
Sari