Dear Chippies, Parents, Family and Friends,
Another exhilarating day was had in Chippyland and I am eager to tell you all about the fun that occurred! I know I say this a lot but it was one of those days when the excitement and bliss around here was palpable. You know, the kind of day when it just seems like every single person here couldn't be happier…we are settled into our routines, enjoying the incredible weather and truly feeling the connections with friends both old and new.
This morning, Trailriders left for their camping trip to Mackinac Island. They were very excited as they have heard from every age group above them just how amazing this trip tends to be. So far, they are having a great time…they head to the island tomorrow which will be awesome. After lunch, the first session campers from Silverspurs, Lucky-X and Circle C departed for Crystal Lake. They had a ton of fun on day one and are all currently sound asleep in their tents.
As for activities today, they were quite productive! At skiing, Annie M and Sydney F both lifted…at cooking, they made oreo rice krispy treats…and at arts & crafts, they made slime. Throughout the day, a number of campers also helped paint C-C. Reese S, Chloe B, Summer W, Sam G, Charlotte A, Lexi G, Izzy R, Lizzie L and Molly P all helped Edgar keep #TheRanch2018 looking good!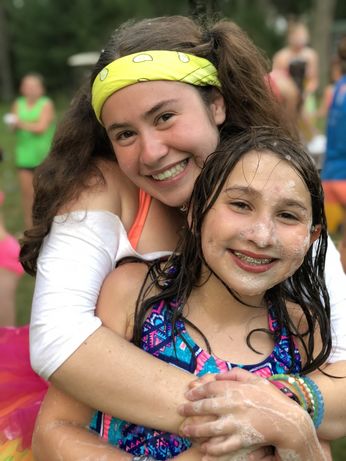 Before BBQ tonight, I was lucky enough to be visited by Samantha D, Haylie W, Jordyn K and Gracie G. They told me stories of their days, the happenings in their cabin and then were kind enough to join me for dinner at the messhall patio. As I listened to what they had to say, I was both entertained by them and proud of them at the same time. Entertained by their stories and hearing their perspective on how everything works. And proud that they have begun to form what seems like true camp friendships…they are sharing experiences and making memories that will inevitably lead to a certain bond that only camp friends know.
To conclude this incredible day, we had a Foam Party in the North Field! Campers and staff dressed in their best neon outfits and danced the night away. There was foam all over the field that led to plenty of "foam fights," and the slip n' slide only added to the fun. Of course, we needed some type of food element, and sno-cones seemed like the appropriate item for the occasion. Izzy Seiler asked, "Can we do this every summer? This is the best night of camp ever." Needless to say, the Chippies enjoyed a night of dancing how they felt and going crazy to their favorite songs.
I think that's about all from CRC for today. I hope you enjoy Soph-Aloaf's post tomorrow…let's be honest, it is everyone's favorite night of the week! Thanks for reading- have a good evening!
Happy Camping and Love,
Sari