Dear Chippies, Parents, Family and Friends,
Cabin Day number one was a huge success, and while the first week of camp went by way too fast, today was a wonderful way to cap off an amazing week. As I sit at my desk, campers are back in their cabins doing bonding activities and looking forward to an early night. Here are the details of our day at #TheRanch2018…
It all began with our famous(ish) Sunday Morning Breakfast. Lisa made pancakes to order with sprinkles, bananas, chocolate chips, strawberries and Oreos. Cliff and Ruth prepared incredible omelettes with tons of different ingredients. And I made scrambles that I must admit were pretty good. One of my favorite parts about Sunday mornings is walking to the lodge to cook, and seeing the line of campers eager to get their day started. It is always a mish-mosh of age groups and thanks to our screenless community, they are all interacting and having good old fashioned fun.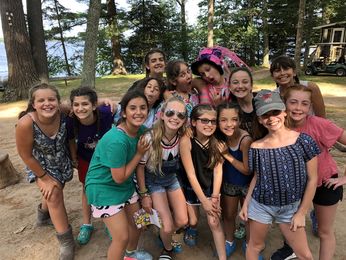 After breakfast, the entire camp boarded school buses to head to the town of Minocqua. We infiltrated the streets, the stores and the restaurants. It was definitely a fun town day and campers came back happy! Once everyone was back at camp, campers and their counselors enjoyed some cabin day activities. The cabin of Horseshoe had a wedding which seems to be an annual tradition for this crew. It was pretty cute…Sophie S officiated the wedding between Sammie K and Ivy F, and others in the cabin were bridesmaids and groomsman. I sat in the audience with a number of campers from Lucky-X and the happy couple was give all types of gifts- from pine cones to rocks and everything in between :).
After a pizza dinner, we had Barnyard Bedlam- the first Tan & White game of the summer! Campers dressed in crazy costumes and scattered all across the South Field hovering over erasers and singing lines from Hamilton. The sachems of each team collected as many erasers as they could and definitely gave it their all! While both teams had fun and worked hard, in the end, the Tan Team came out on top.
That's about all for now…it was a truly wonderful day and excellent way to end one of the best first weeks in Chippewa's history. Thanks for reading…talk to all of you soon!
Happy Camping and Love,
Sari