Chippewa Ranch Camp Reunion Tour 2016!
We are very excited about our upcoming Chippewa reunions all around the country. We will be reuniting with Chippies in at least seven different cities over the next three months. Below are the details about when and where these reunions are- please let us know if you will be in the area because we would love to see you. After each reunion we will update this post with photos and a recap so be sure to check back often. We look forward to seeing you all very soon!
Chicago
Date: Sunday, December 11th
Time: 2:30-3:30pm
Location: Renaissance Movie Theater
1850 Second Street, Highland Park
*As always, before the reunion, there is an optional and informal lunch at Michael's (across the street from the movie theater) at 1:15pm. We will meet in the back area and eat lunch before the movie.
Recap: The Chicago Reunion was once again a huge success! The day began with a staff brunch with over 40 staff members. We had a great time but were excited to get to Michael's to see the campers. In true Chippy fashion, there was a ton of food eaten as everyone hung-out and reminisced about #TheRanch2016. We then headed to the movie theater to watch the most epic reunion movie of all time. There was of course a #TWRealm2017 trailor followed by an incredible video. It was fun to see the Chippies on the big screen…there were lots of laughs and maybe even a few tears because we were all #MissingCRC. So there you have it, it was a great reunion to kick-off the 2016 reunion tour!
Cincinnati
Date: Saturday, January 7th
Time: 2:00pm
Location: Margolis Home
5180 Muirwoods Court, Cincinnati
Recap: We had another awesome Cincinnati Reunion on Saturday afternoon hosted by the Margolis family (a big thank-you to Ann, Michael, Sara and Ben). It was great to catch up with the returning Cincy campers, and to hang out with two of the newest Chippies- Mckenzie S and Jackie K. Before watching the 2016 reunion video, we enjoyed Cincinnati's famous Graeter's Ice Cream- quite the treat! As always, it was so nice to spend time with our wonderful Cincinnati families!
Columbus
Date: Saturday, January 7th
Time: 6:45pm
Location: Easy Street Cafe
Recap: Cliff and Sari made a last minute stop to Columbus on our way from Cincinnati to Cleveland, which turned out to be so nice! The Kleinmans (current camper family), Goldfarbs (camp doc and current camper family) and Hellers (alum and family campers) were all able to meet us for dinner despite the late notice. We enjoyed some excellent food while chatting and reminiscing with this group. We were sad to miss our Ohio State Chippies but will definitely make it work next year as we plan to make this an annual stop on our Chippewa Reunion Tour!
Cleveland
Date: Sunday, January 8th
Time: 11am
Location: Firstenberg Home
18 Pepperwood Lane, Pepper Pike
Recap: Our final stop in Ohio was fantastic! The Firstenbergs hosted our first Cleveland Reunion in over ten years. It was wonderful to see and meet our returning and new 2017 Cleveland Chippies. Additionally, we have two Chippewa Alumni moms in Cleveland which is very cool! Campers and their families enjoyed spending time together and talking camp- both about the past and present. A big thank you to the Firstenbergs for hosting and to the entire Cleveland crew for all of their enthusiasm surrounding CRC :).
Scottsdale
Date: Sunday, January 15th
Time: 4:00pm
Location: Hirsch Home
11187 E Monument Drive, Scottsdale
Recap: Lisa and Sari had a blast hanging with our Scottsdale campers and their moms. In 2017, we have three new Scottsdale campers bringing our total to nine from the area. This is a great group and we are thrilled this city is growing. Tori Levy (Chippy alum) joined us as well as she attends ASU…not too far away. We watched the 2016 video, chatted about the upcoming summer and ate plenty of food. It was wonderful to spend time with these camper families and were once again reminded that 2017 is sure to be an amazing summer!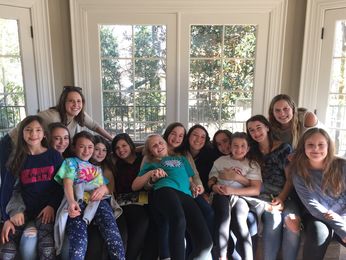 Nashville
Date: Sunday, January 28th
Time: 2:00pm
Location: Yalowitz Home
1700 Stokes Lane, Nashville
Recap: The Nashville Reunion began with the staff brunch with a very solid Nashville crew. Cliff and Sari were joined by Samara Orkin, Emily Jaksich, Alyssa Rosenbaum and Lillie Yalowitz. We ate A LOT and had a great time catching up before the reunion. We then headed to the Yalowitz home which has been the host of this awesome reunion for quite some time. It was great to see all of our Nashville campers and to meet the two newest additions to this awesome group. We watched the 2016 video, hung out and took lots of pictures (even some Snapchats!). It was an incredible day spent with some of our very favorite Chippy families!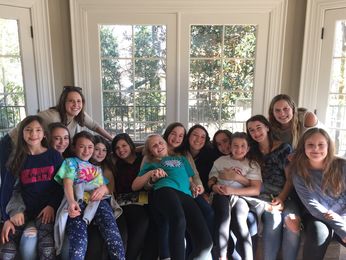 Los Angeles
Date: Sunday, February 5th
Time: 11:00am
Location: Robinson Home
723 San Lorenzo, Santa Monica
Recap: The LA Reunion was a ton of fun and we loved spending time with this growing group of Chippies! The Robinsons always provide us with amazing food and they did not disappoint! In addition to eating, it was great to catch up with current campers, their parents and even some alumni. We enjoyed the awesome 2016 movie one more time and, of course, cheered whenever an LA Chippy was on-screen. It was a blast and we are already excited to be back there next year!
And that wraps up our reunion tour for this year. It was so nice to spend time with Chippies and their families all over the country. We hope to add even more stops to the tour next year as various cities across the US are growing at CRC. A HUGE thank-you to all those who attended a reunion and an even BIGGER thank-you to those who hosted us! See you all in less than 100 days AT CAMP!