Our May Staff Spotlight features our 2016 CNA- Melissa Margolis. Melissa was at camp for eleven years as a camper and counselor from 2003-2013 and then took two years off. We are thrilled to have her back and love that she is able to pursue her career while being at CRC. Melissa had a sister at camp, cousins at camp and her mom & aunt are even Chippies…and don't forget her dad, Dr. Margolis, one of our favorite camp docs! Read below to learn more about Melissa and her Chippy career…
How many summers have you been at camp?
After two years off, this will be my twelfth summer at camp!
What cabin were you in during the summer of 2015?
In 2013 I lucky enough to be in Lucky-x!
What is your favorite part about being a counselor at CRC?
My favorite part about being a counselor at CRC is having the opportunity to help girls grow into themselves at the best place ever! I learned that growing up our counselors had such great, positive influences on our lives and I only want to continue to spread that same energy. And it is so fun being friends with people younger than you!!
What was your favorite memory from the summer of 2015?
My favorite memory from summer of 2015 was visiting! It was a great weekend with my age group and I loved seeing my campers in the role of counselors now. It made me realize I could definitely come back to camp :).
What is your favorite camp memory of all time?
My favorite memory at camp is a blend of second session Trailriders summer. There was only 14 of us, so we had so much space for activities. We made a volley ball court inside our cabin, always had room to play games and hang out. It was definitely a summer of bonding and laughing about things I can still remember.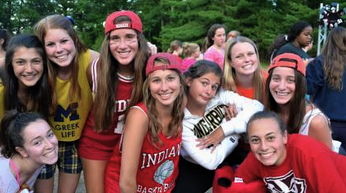 What are you most looking forward to in the summer of 2016?
I am most looking forward to take on a new role in the health center and get to know all the campers that come in! I want to get to know everyone that is new at camp since my last summer.
How do you stay in touch with your camp friends during the year?
My age group has a group text that we use constantly. It is so fun and a great way to laugh often.
What do you do when you are not at camp?
I am currently graduating from Indiana University with a degree in Nutritional Sciences and a minor in Biology and Spanish. I am applying to Physician Assistant school. I like hanging out, reading, coloring, and walking dogs in my free time. I'm sure I'll do a lot of that this year on my year off of school!
Anything else you want to share with your Chippy family?
I can't wait to be at camp!!