The November Alumni Spotlight features Kelli Mehrholz. Kelli was a long time Chippewa camper and counselor who has turned into a parent of a camper and now CIT. Her passion for Chippewa is evident and we love having her as both a camp parent and Chippy alum. Read below to learn all about Kelli's camp experience and check out the awesome photos! Thanks Kelli for sharing.
What years were you at CRC?
I was here in 1976, 77,78,79,80,81,82,83 & 85
Which summer was your favorite and why?
1979 was my favorite summer. It was Tom's first year. I was in Trailriders and we had a large group- A-Frame had only two campers so we were like the oldest. Tom took us everywhere. I loved my counsellors and cabin…we had a crazy fun summer.
What is your favorite camp memory?
I have so many "favorite" camp memories. It's almost impossible to pick one. I have sound memories like Patti Katz singing in the theatre and the water hitting the pier on the waterfront.
I have friend memories of camping trips together and days off in town. I have fond memories of accomplishments like becoming a Chippybat and winning Miss Chippewa Rodeo and being Grand Sachem of the White Team.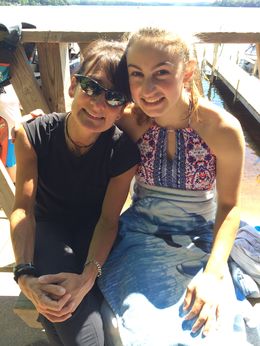 What was your favorite activity at camp?
Favorite activity would be a toss up between water skiing and riding- still ski whenever I can (riding not so much).
Were you a Tan or a White?
White!
How do you keep in touch with your camp friends?
I keep in touch with camp friends by phone mostly because they are some of my closest friends even today. I stay in touch with a few through Facebook though.
Where do you live now?
Deerfield, Illinois
What do you do?
I'm a proud Chippewa mom of Sydney Mehrholz. I'm married also and have a son but they didn't go to Chippewa :).
What do you miss most about camp?
What do I miss most about camp?? Really? Everything practically, except for the sand that ended up in my bed at the end of the day. I find myself doing cabin clean up often.
Is there anything else you want to share with your Chippy family?
I'm so grateful that my daughter loves camp as much as I did and still do. I continue to visit as often as I can and know that each time I do, I feel the extraordinary feeling that only Chippewa Ranch Camp can bring to me.