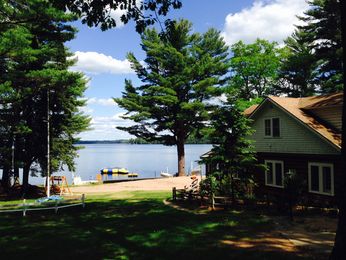 Dear Chippies, Parents, Family and Friends,
What a day! As you can see from the picture above, the weather could not have been more perfect. Throughout the day, staff continued their training and worked hard painting, cleaning and getting things into place. Today's admin meeting was focused on re-evaluating and revising our Emergency Action Plans which we are confident are once again extremely well thought-out and thorough. In addition to all of this productivity, we had a BBQ for dinner and and even played a few rounds of Jacks (the traditional camp game) this evening.
Tomorrow, our Nursing Assistant, Kelli, will be heading off to take a Wilderness First Aide Course at Camp Manitowish. We are thrilled to have her at camp this summer and know that she will help create a healthy and safe environment for our campers and staff.
Aside from all of this, the construction around camp is really coming together. Timber Walk looks great (check out Cliff's picture on Instagram), and the barn is looking fantastic. We are excited for all of the Chippies to get here and see these awesome camp improvements.
That's all for now, but have a great night!
Happy Camping and Love,
Sari