Chippewa Ranch Camp Reunion Tour 2013!
Cincinnati
Date: Sunday, October 6th
Time: 5:30pm
Location: Mailender Home
553 Hickory Hill Lane, Cincinnati
Recap: The Cincinnati reunion was once again a ton of fun. A huge thank you to the Mailender family for hosting us once again. Melissa made an incredible dinner and we had a blast reminiscing about the summer of 2013. In addition to our current campers Ella, Sara and Haley (pictured above), we also had a number of new Cincinnati campers attend the reunion. Julia Vigran made it to Cincinnati all the way from college to enjoy the company of many Chippies. Overall, the night was a blast and the reunion movie was awesome! Thank you Cincinnati Chippies for helping us to kick off the 2013 reunion tour :).
Los Angeles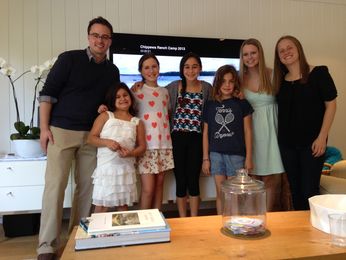 Date: Saturday, October 19th
Time: 11:00am
Location: Robinson Home
723 San Lorenzo, Santa Monica
Recap: We had an amazing time in LA for the reunion. Thank you to the Robinson family for being such fabulous hosts! In addition to wonderful food, we got to catch up with all of our LA families and talk about the upcoming summer. We even had two new campers in attendance who are looking forward to being a part of the Chippewa family. Kelsey Boyle joined us as well for the reunion as she goes to Occidental College located in LA. After the reunion, we headed to the Barber home to visit with our family camp friends. It was wonderful to see everyone and we love how LA is such a growing Chippewa city!
Nashville
Date: Sunday, November 10th
Time: 4:30pm
Location: Yalowitz Home
1700 Stokes Lane, Nashville
Recap: Though it was a short trip, Music City sure treated us well! From Gigi's cupcakes to an amazing staff lunch at the Southern, all the way to the Yalowitz home for the reunion and finally a staff hangout and dinner at the Tavern, we definitely ate well while having a lot of fun. It was wonderful to see our Nashville alumni, staff and campers and also to meet two new prospects. As we always say, we truly have some incredibly kind campers in Nashville, and it feels like one big family whenever we travel to Tennessee! Thank you to the Yalowitz family for once again hosting the reunion :).
Chicago
Date: Sunday, December 15th
Time: 3-4:15pm
Location: Renaissance Movie Theater
1850 Second Street, Highland Park
*As always, before the reunion, there is an optional and informal lunch at Michael's (across the street from the movie theater) at 1:45pm. We will meet in the back area and eat lunch before the movie.
Atlanta
Date: Sunday, January 26th
Time: 2:00pm
Location: Greenberg Home
665 Widgeon Lane, Atlanta
Any additional reunion dates to come!
We hope to see you all at one or more reunions this season!
Please feel free to call or email us with any questions regarding the reunions